Announcement
To our iOS app users: the "Add New Device" function is currently available only on our Android app.
announcement.new_button
Making safety visible
With this product teardown video, we are proud to show you every detail in which we've made great efforts, to enhance electrical safety for you.
Safe + Intelligent = Invicible
Once you purchase our eLIFEconnection Smart Power Strip, you can have access to the Intelligent Monitor Page right away. It records the data of temperature, power, voltage and usage history for you. It also calcuates electric bill and stand-by time for you.
Safety, our primary concern.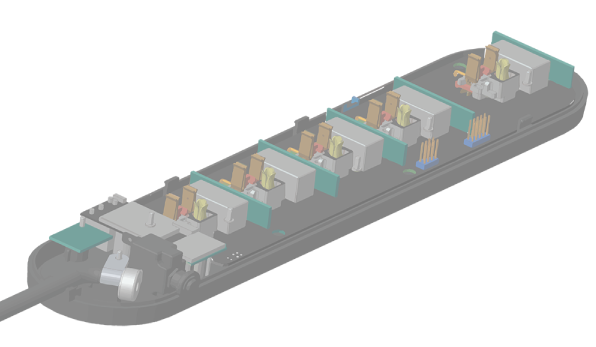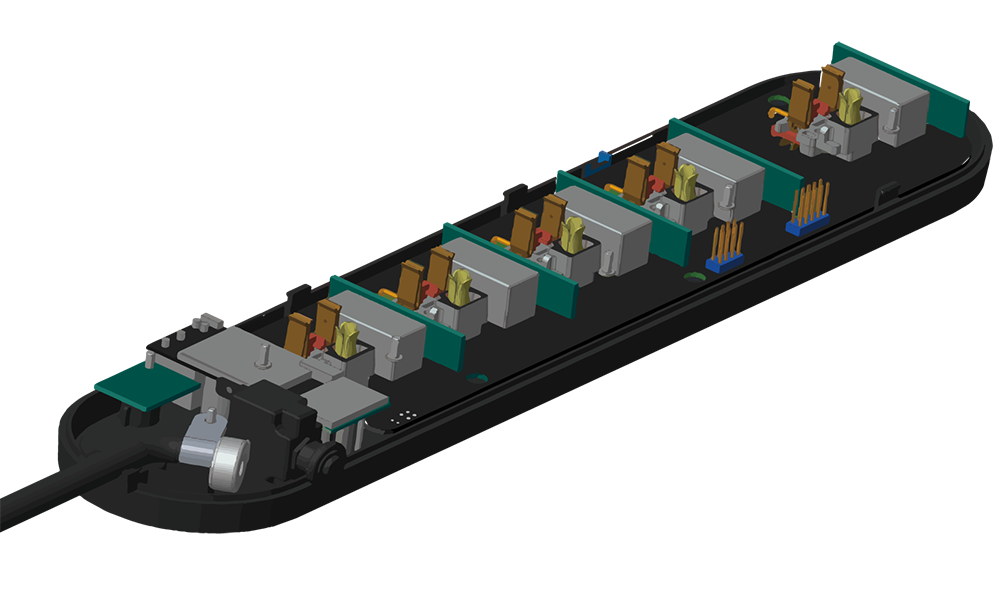 Current leakage protection
The medical grade mechanism can be activated in 0.1 second in order to prevent toddlers from an electric shock accident.
Overload current protection
Once the event of overload current is detected, the power strip will be shut down immediately to avoid further danger.
Temperature sensing
We even record environmental temperature to keep you from potentially dangerous case caused by fire.
Anti-combustion protection
Made up of the anti-combustion material, the casing firmly encircles the delicate inner construction to prevent accidents.
Prevented from overheating
With our patent low resistance structures, we have efficiently solved the common problem of the overheating power strip.
Prevention of information leakage
Information leakage is until now the main problem of IoT. We take the issue seriously and adopt the multi-level encryption protection for those with the same concerns.
CUTTING-EDGE TECHNOLOGY
with Global Patents
De-bounce Switch
effectively reduces the power supply noises produced by the relay. The patented circuit design provides you a thorough insurance against unnecessary switching and therefore extends the life cycle of your appliances.
Zero Crossing Switch
Our patent technique makes the switch possible to be turned on/off always at the zero crossing point. It is crucial to your audio equipment in avoiding switching surge and protecting your appliances.
Durable Relay Switch
Both the relay switches above has been switched over 10000 times. As it clearly shows, the cheap one (left) is covered with charcoal surface due to sparks, which potentially causes short circuit and even fire. Ours (right) reduces the sparks and therefore remains new and safe.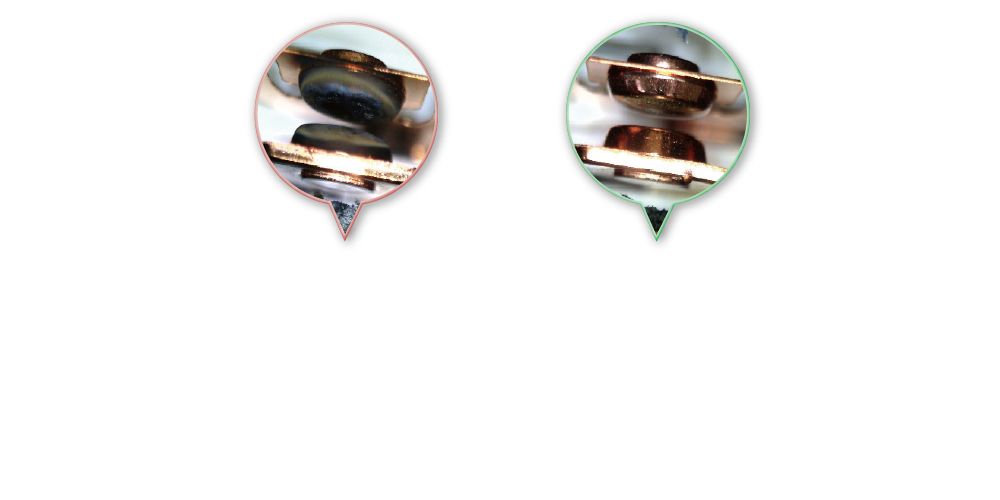 Heavy Duty Design
The combination of superior materials: the flame-proof case (UL 94 V-0, 5VB; the thickness more than 0.11 inches), the tough front panel (Pencil Hardness ASTM D3363 - B-HB) and the robust power cord (SJT 105°C 3x14AWG (2.08MM2) 300V VW-1).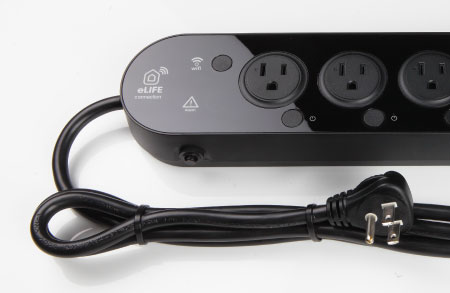 Extremely High Conductivity
Made up of high-conductive and low-impedant copper with the cross-sectional area approx. 6.0 mm2 (7.5mm ht. x 0.8mm thk.), it creates an exceptional pathway for power to travel from the wall, bringing out excellent performance previously bottlenecked by a cheap one.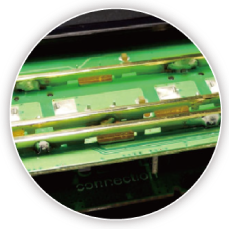 The low-impedant copper (0.8 mm thick, 20 times than the normal one) serves as the bset pathway for power.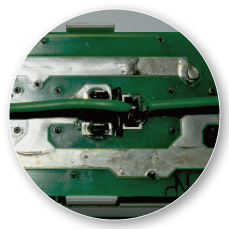 Most proucts use mere thin copper clad on PCB as conductor (0.035 mm thick at most), which is bad at heat dissipation and prone to danger when using high-power appliances.
We look into every detail
The best quality achieved by the inductrial-grade manufacturing.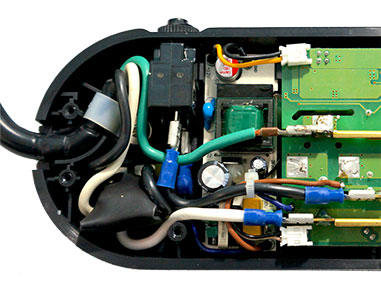 We use UL certificated terminal plugs and 8 solid tenon clamps to enhance stability and safety.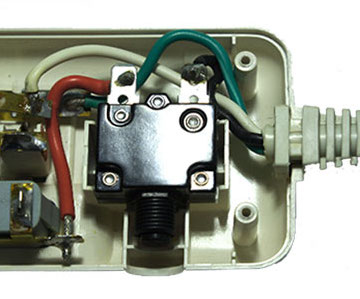 A common power strip is made up of unstable solder conductor and weak connection of the cable and device, which is easy to break and caused danger.
Always online, always safe
Connected to home Wi-Fi and you gain a 24 hours guard.
Not only hardware
Connected to Wi-Fi, your appliances will be safeguarded by our cloud service. When any abnormal event is detected, the device will be shut down automatically and send alert to user through the app. (Coming soon)
Sharing safety
The multi-user function allows all of your family members to become a watchman of household safety. It increases the possibility to react to the potential dangerous event immediately.
Smart monitor
With the intuitive interface, You can check and control your appliances through the app at any time: realtime voltage and temperature, scheduling, realtime Watt, and even alarm notification.
Flexible scheduling
Users are able to set power on/off schedules to each outlet. Whether to shut down the appliances after going to work or to turn them on when coming back to home, the function offers you flexibility and convenience.
Energy statistics
We offer daily and monthly statistics for power consumption. Apart from monitoring electricity consumption, our product also provides user with a practical tool to calculate the electric bill.
Our Obligation
to Conserve Energy
Patent energy-conserving switch
Our new designed mechanism is wisely switchable between the operating mode and the energy-conserving mode, with which the unnecessary standby consumption can be easily reduced.
Stand-by Consumption

Comparison
Using smart power strip is not necessarily accompanied by the higher electric bill. Our patent design is able to reduce the consumption to 1/3 of other brands' products, leading to the high efficiency and energy conservation.
Specification
Total Number of Outlets
5
Number of Switchable Outlets
5
Number of Programmable Outlets
5
Continuous Electrical Rating
110V/15A/1650W
Wi-Fi mode
802.11b/g
Wi-Fi RF Output Power (Average)
802.11b: 16.5 +- 1dBm
802.11g: 14 +- 1dBm
Antenna type
Integrated PCB antenna
15A Over Current Protection Response Time, 5% Tolerance
600%, 1.05 sec max
>400%, 3.05 sec max
>120%, 10 sec max
Over Temperature Alert
Ext. Temp >80℃ default
Surge Protection
UL1449/6KV, Surge Protective Devices
Cable Length
1.8M (5.9 Ft.)
Operational Voltage
AC 110V
Frequency range
50/60Hz
Max Rating load current
15 Amp
Switch type
5 ports, 15A Smart anti-Arc Hybrid Switch
Switch times limit with full load
> 5,000,000 times
Switch inrush current rating
190A/110V, max with loading 6.3ohm +350uF
Operational temperature
0℃ ~ 40℃
Operational humidity
0% ~ 95%, Noncondensible
Power consumption
1.6W typ/3.5W Wi-Fi burst
Casing flameproof grade
UL 94 V-0, 5VB
Cable flameproof grade
VW-1
Power monitor (Watt)
Independent power meter of each port (1.0~1650W)
Power monitor interference
Power value interference 0.5% port to port
UL safety certification
UL-1363 Re-locatable Power Taps
UL-244A Solid-State Controls for Appliances
UL-498A Current Taps and Adapters
UL-1449 Surge Protective Devices
Monitor OS
Cross platform